It's a level, who would've thought.
Download
EDIT: 03-12-14: Cleanup, midpoint and music codes added Download
Notes
This level started out with the concept of surviving for a particular amount of time with the main hazard being lava that appeared from all four sides of the screen.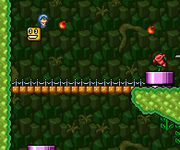 This concept is still fully apparent in the finished level, except that there was a more elaborate level build around it including a minor boss.
Important Notes
The level starts in a rather grassy cave and ends in the same cave, now on a much higher level. The level uses a SMB3 collectible star as exit.
Reviews
This is pretty much EXACTLY what I look for in a level. However, I'd prefer if the boss didn't exist, even though the effect of him ripping out the sign is REALLY cool. In the end, though, this level was incredibly fun, just difficult enough, atmospheric from the basement through the roof, incredibly enjoyable, and all in all one of my favorite creations during this entire collab. Do I even need to say "Approved"? Yes. Yes I do. Duvi | 8:10 PM, 12/17/15
(Sidenote; You're going to have to tag this song properly and turn it fromm a .mp3 to a .ogg, but since I like this level so much, I'll do it for you if you want me to!)
As mentioned Earlier, Music Metadata doesn't Work, and needs to be OGG Vorbis, not MP3. First few jumps could also be made a tad easier for Sheath (few times I missed the next platform).
Also, if you're doing a "music matches up with the level" thing, look into either disabling the pause menu, or pausing the music when the pause menu is open. Otherwise, good job. -SAJewers | 18:42 ADT, December 18, 2015
Ad blocker interference detected!
Wikia is a free-to-use site that makes money from advertising. We have a modified experience for viewers using ad blockers

Wikia is not accessible if you've made further modifications. Remove the custom ad blocker rule(s) and the page will load as expected.