Sixth level created by Unaniem. [ceiling blows up]
Download
09/09/13: Balancing update; less red-herrings, leftovers don't blatantly dump player at the beginning, intended solution made slightly more clear, particular method to break the level removed, ice-spikes brightened: Download
Notes
I wanted to create something I hadn't crafted yet up to this point, and at the same time wanted to create something that was more based around puzzle and confusion rather than pure platforming skill.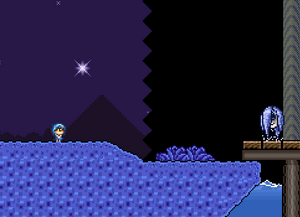 Ghost House.
Welcome to the labyrinth titled with a Dutch name. Titling stuff with uninteresting words but using foreign translations makes it just the more interesting, doesn't it?
There is not much I can say about the level without spoiling or accidentally giving away clues on how to beat it. There's someone in there anyway who already tries to help you along, but sadly suffers from some sort of syndrome which causes them to only speak in cryptic lines. Poor guy.
Important Notes
The level features two exits, in the formats of one SMW Goalpost and one SMB2 Goalorb. The level stars in very plain grasslands near a ghosthouse and ends back in those grasslands, each exit merely being in a different direction.
Ad blocker interference detected!
Wikia is a free-to-use site that makes money from advertising. We have a modified experience for viewers using ad blockers

Wikia is not accessible if you've made further modifications. Remove the custom ad blocker rule(s) and the page will load as expected.